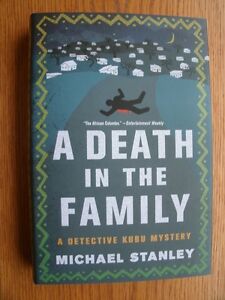 A Death in the Family: A Detective Kubu Mystery
by Michael Stanley --- 359 pages
Not quite a cozy and not quite a police procedural, the Detective Kubu mystery series presents a less idealized, slightly grittier version of life in contemporary Botswana, a small, arid country bordering South Africa, than that found in Alexander McCall Smith's better known
No. 1 Ladies Detective Agency
Series
.
In this the fifth book of the
Kubu
Series
, Assistant Superintendent David "Kubu" Bengu of the Botswana Police, is shocked by the senseless murder of his own elderly father, a man of upright character, well-respected by his neighbors, and suffering from the early stages of dementia. What's even worse is that Kubu, the best detective on the Force, has been forbidden to participate in the investigation. But driven by grief and stubbornness, Kubu attempts to snoop around behind his boss's back.
When another inexplicable murder occurs --- an official in the Department of Mines --- Kubu's boss sets him on that case. It looks like suicide, but Kubu quickly discovers this suicide looks highly suspicious. Then an American mining consultant who was a friend of the victim is attacked by a knife-wielding assailant. Kubu is convinced that all three crimes are linked and have to do with a proposal to expand a Chinese uranium mining concession near the historically important town of Shoshong.
To keep Kubu from compromising the investigations by his obsession with finding his father's killer, his boss sends him to represent Botswana at an international police conference in New York City in the middle of winter. Kubu's close encounter with the Big Apple provides some comic relief and yet another opportunity to meddle with the investigation.
Of course it takes Kubu's superior instincts to pull together all the various threads and find the solution, but not before a riot is engineered in order to cover up another murder.
Click
HERE
to read the review from
Publisher's Weekly
.
Click
HERE
to read the review from
The Strand Magazine
.
Click
HERE
to read the review from
Book Reporter
.